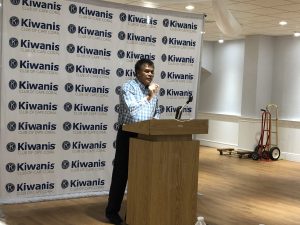 August has been a busy month so far. We held a blood drive on August 4 and collected close to 15 donated pints of blood. August 5 we held our membership meeting both in person and on zoom. Our speaker was ISHMAEL HERNANDEZ, President of  Freedom and Virtue Institute and his topic was Theories of Race.
Membership News 
We now have 4 new members –  NONA GRONAU, MARYANNE CIPRESSY,  ATTORNEY JUSTIN OROSZ and  ROBYN HAASE.  JIM MOORE visited us, having relocated here from Rochelle IL, and will be transferring to our chapter.  JOHN HENSON has requested to renew his membership. Our Club now has 75 members!!! We are ranked 11 out of 242 in our district for net growth and 48 out of 242 in our district for percentage of growth.  At our next meeting on September 2  these new members will receive their Kiwanis pin and Membership Certificate and a warm welcome to the CCKC.
Event News 
Our Kids Fest originally scheduled for October has been canceled. We look forward to having it in 2021!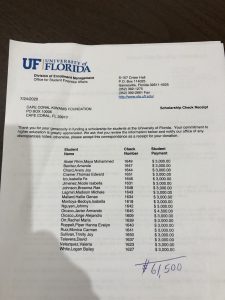 Scholarship News 
We received a thank you letter from the University of Florida for the 20 students who receive scholarship funds from us totally $61,500
Volunteer News
President Elect Marilyn Stout is looking for Committee Chairs. If you are interested in getting more involved in what we do and how we do it and be involved in guiding our club into the future, please contact Marilyn and she will be happy to have you fill one of these vital positions.
CONTACT: astout34@comcast.net
Beau Bullock needs help in the Kiwanis stores. We have many volunteers over 65 afraid to return to the work force and we understand. However, because of this we can only maintain
1 shift at the stores….10AM-3PM. This is  dramatically impacting our sales. Please, if you can spare some time, our back rooms are full and we need your help. Please go to www.mycapecoralkiwanis.org and complete an application . This is our only FUNDRAISER which continues 7 days a week, 52 weeks a year.
Division News
Florida Kiwanis Division 19 has a group on Facebook where you will find news from other clubs – https://www.facebook.com/groups/FloridaKiwanisDivision19/
Florida Kiwanis News
Kiwanis Florida District Virtual Conference August 14th-15th, 2020 Registration is Free Register at https://mvp.markeys.onl/flkiwanisvcon/home