We have concluded our 2020 – 2021 year and are looking forward to our 2021-2022. At our recent Installation Dinner we thanked those who made an impact on the activities of our organization and welcomed in in our board of directors.
Award Winners 
George H Pickson Award
– Ron Kemper and Eric Feichthaler – scholarship committee
Walter Zeller Fellowships Awards
– Fran Marsino – 2 years as Treasurer
– Wally Laumeyer – 34 years of chairman of Fishing Derby
– Liz Kominar – Key Clubs
– Donna Germain – Cape Coral Chamber – for her contributions to our community
– Julie Ferguson- Cape Coral Caring Center  for her contributions to our community
Above and Beyond Award – for always going above and beyond what is asked of them
– Pat (Little Pat) at our south store
– Mick Sheldrake – Secretary
Kiwanian Of The Year 
Jeff Wunderlich – for outstanding service to our organization and our community 
Officers 
President – Marilyn Stout
President Elect – Vanessa Silva
Treasurer – Edward Wallach
Secretary – Elizabeth Elaine
Past President – Jeff Wunderlich
Directors 
Kevin Abercrombie
Al Piotter
Donna Williams
(Vacant)
On the first Tuesday of each month…our Builders Club at Trafalgar Middle School volunteers with the Community Cooperative Food Pantry.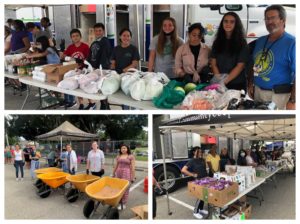 If you would like to know more about our organization and membership please visit
Cape Coral Kiwanis 
We meet on the First Wednesday of each month 6 PM at Kiwanis Hall 360 Santa Barbara Blvd Cape Coral Fl 33990