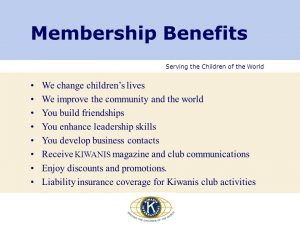 Interested in being a part of the Kiwanis Club of Cape Coral? We are very active in our community and provide many events and programs to serve the children of Cape Coral. We provide scholarships, community grants, have 2 thrift stores that fund many of our activities, events, grants and scholarships.
Our club  is a unique because we provide as much assistance as possible to keep our membership dues at a minimum:
Kiwanis Club of Cape Coral charges no dues for our local club because all members who volunteer in our stores and hall allows us to pay the club $2.00 for each hour we members volunteer and this subsidizes our dues for Kiwanis International and the Florida District and for our club meetings. We only charge members the amount we are required to pay the KI and Florida District.
Members 90 years of age with at least 20 years of Kiwanis membership have their dues paid by Kiwanis Club of Cape Coral. Please advise if you qualify for this free membership since some members do not have a birth YEAR on our records and we will not know when you reach that magic age. We have some former Presidents with Life Membership paid by their current or previous clubs. Please advise if you qualify for that status in order for us to verify our records.
If you are a teacher and a Kiwanis Faculty Advisor for our Service Leadership Program for K-Kids, Builders Club, or Key Club in one of our schools the SLP Committee Chair (Rich Rolfe) pays your dues on behalf of the club as a THANK YOU for your dedication to our students.
If you would like more information please visit our MEMBERSHIP page 
Renewals…..We are required to Pay our Dues to Kiwanis International by October 10, 2020 
Annual Dues for renewing Members:   $80
Annual Dues for Corporate Members:  $120
If you need an Invoice to provide to your accountant if your organization pays your dues, please advise and an Invoice will be emailed to you or mailed if required.
We can now take Credit Cards as payment for your membership dues. Call Ann at 239-671-9271
If you have any questions regarding the dues or need more information, please do not hesitate to contact Ann at kiwanisann@gmail.com
Please make your check payable to KIWANIS CLUB OF CAPE CORAL and mail your check to:
KIWANIS CLUB OF CAPE CORAL
P.O. BOX 10006
CAPE CORAL FL 33910