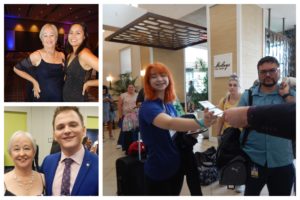 CCHS Key Club DCON Awards
Results from the District of Key Club Education and Leadership Conference
Cape Coral High School 2021-2022 Key Club Awards
 Club Membership Growth provides recognition to individual Key Clubs for exhibiting outstanding club membership growth in a single year.
Distinguished Club Level provides recognition to individual Key Clubs for their overall performance in the combined areas of club administration, membership and leadership development, Kiwanis Family involvement, service, and fundraising as judged against a pre-established standard of excellence.
Distinguished Club Member recognizes club members who has 45-75 hours of community service.  Kaitlyn Kare, Clare McMillan, Andrew Friedl, Lilah Castro, Anna Gibson, Samantha Chow, Aaron Friedl
 Early Bird Dues recognizes with a banner patch from Key Club International, every club that has made their first dues payment by December 1, 2020
Governor's Citation is awarded to clubs that record at least 18 hours of service per member (calculated by dividing the club's total service hours by the number of members in the club).
Pride Report Submission is awarded to Clubs with 100% on time submissions of their March through February Pride Reports. Given to Anna Gibson
Trick or Treat for UNICEF Fundraising banner patch will be given by Key Club International to any Key Club that raises at least $250.00 for Trick or Treat for UNICEF for the Maternal Neonatal Tetanus Project/The Eliminate Project. Funds must be correctly sent to Key Club International by December 31
Aaron Friedl received the following awards
Robert F. Lucas Outstanding Lieutenant Governor's Award The Robert F. Lucas Outstanding Lieutenant Governor's Award recognizes the outstanding work and exceptional character of a district lieutenant governors.
Governor's Project Scholarship $1000 scholarship. The Governor's Project Scholarship is awarded to a Key Club senior who has shown the utmost dedication to this year's Governor's Project.
Nancy Markham Endowed Fellowship Fund provides scholarship support to students who show the most dedication to Zone I Key Club. $1000 scholarship
Mrs. Kominar received
KEY OF HONOR The Key of Honor is the highest recognition award presented by Key Club International. The recipient shall be 1. an individual who has made a lifelong positive impact upon youth in general and Key Club specifically, or 2. an organization that should be so honored for a long-term support of youth and the Key Club program.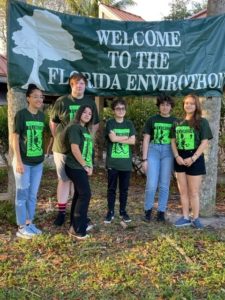 Cape Coral High School ENVIRONMENTAL CLUB AWARD
The Environmental club traveled to Tradewinds Park in Palm Beach Florida, to compete in the State Envirothon Competition. They took First Place in Soil and Land Use.  Cape Coral Kiwanis supports this team.
Envirothon Competition Team: Melanie Cubells, Mia Moya, Tristan Hyatt, Haven Mena, Emma Shilling, & Veronica Varona
 Congratulations to all!