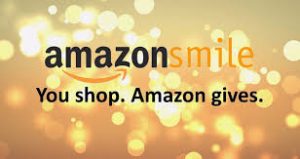 Raise you hand if you know what AmazonSmile is? Extra points if you know that we participate in the program. For those of you who are not aware, this is a great way to help us with our mission every time you shop on Amazon.
What is AmazonSmile? According to Amazon it "is a simple way for you to support your favorite charitable organization every time you shop, at no cost to you. When you shop at smile.amazon.com, you'll find the exact same low prices, vast selection and convenient shopping experience as Amazon.com, with the added benefit that Amazon will donate 0.5% of your eligible purchases to the charitable organization of your choice. You can choose from over one million organizations to support.
Amazon Smile is part of the Amazon Smile Foundation which administers the Amazon Smile program. According to Amazon here is how it works. "All donation amounts generated by the AmazonSmile program are remitted to the AmazonSmile Foundation. In turn, the AmazonSmile Foundation donates those amounts to the charitable organizations selected by our customers. Amazon pays all expenses of the AmazonSmile Foundation; they are not deducted from the donation amounts generated by purchases on AmazonSmile."
So, here is how you can help. Next time you are going to shop on Amazon you will go to smile.amazon.com/   You will then be asked to select an organization. To find us, use the search option and type in our name: The Cape Coral Kiwanis Foundation Inc. Then just shop as usual. They will then donate .5% of your eligible purchases back to us.
It is just that easy. If you are an Amazon Prime member, using AmazonSmile does not alter that at all. So if you are an Amazon shopper use AmazonSmile instead and help us help the children of Cape Coral.
Want to know of other ways you can help? Check out our Thrift Stores. Shopping or donating items is another way you can help.