SPECIAL POPULATIONS
CHRISTMAS PARTY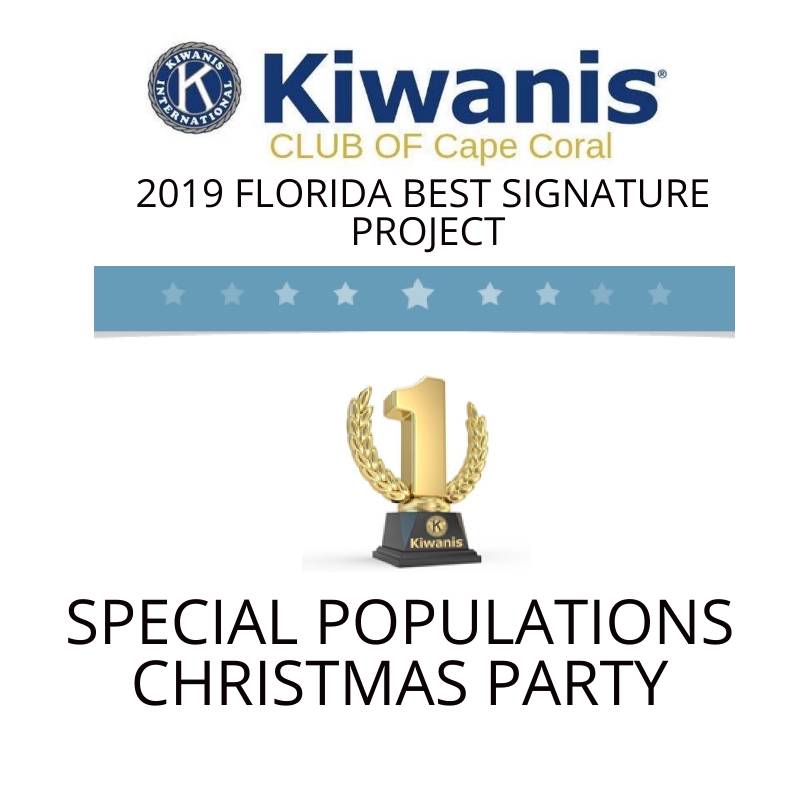 KIWANIS INTERNATIONAL CHOSE OUR SPECIAL NEEDS CHRISTMAS PARTY AS THE WINNER FOR BEST SIGNATURE PROJECT FOR 2019 IN THE STATE OF FLORIDA FOR CLUBS WITH 28 OR MORE MEMBERS.
Gold, Silver, and Bronze winners in Tier I and Tier II will be chosen by guest judges from the Kiwanis International partner portfolio and announced at the Kiwanis International Convention in Indianapolis.
Thank you to all who made this happen.
Kiwanis of Cape Coral entertains close to 200 special needs children at the Cape Coral Yacht Club. This is a yearly event that is attended by students from the local elementary and middle school's ESE programs.
Entertainment, which kept them in the holiday spirit, was provided by Jeff the juggler, Brenda the Ventriloquist, Melody the Clown and singer Bob Greenway. The children were served pizza and drinks by the Kiwanis Key Clubbers, Builders Clubbers and Aktion Clubbers from our local Cape Coral schools.
The Cape Coral Fire Dept, with escort from the Cape Coral Police Dept Motorcycles brought Santa in on a fire truck. Photo opportunities with the PD, Santa and the entertainers were available. The traditional last song was the 12 days of Christmas (song as a group), complete with large posters to help everyone remember the 12 gifts in order. This is an event these children look forward to every year.
EVENT DETAILS
Special Populations
Christmas Party
DECEMBER 2020
Cape Coral Yacht Club

Volunteers are always needed and welcome.